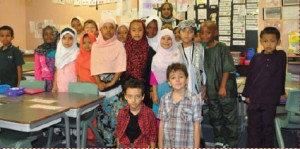 Assalamu 'Alaikum Wa Rahmatullahi Wa Barakatuhu. This week, on the 21st of March, we celebrated harmony day, a day that marks the unity of different cultures. Our students celebrated by wearing their traditional clothing, giving presentations, bringing in cultural food and by playing good 'Picnic Games'. We started the day with a special ssembly
which begun with our daily prayers and special presentations by our students and teachers. Our students had an enjoyable afternoon. We started off with a picnic and enjoyed tasting a variety of foods. We also had some cultural displays; the award for the best display went to the Arabian students from years 8-10. We had some Laksa from Malaysia, Gulab jamun from Pakistan, Mandtu from Afghanistan, of course the famous coffee from Saudi Arabia and many more. We had a best
dressed competition won by Mohammed Yacoub and Clements both from year 9. After our picnic, we formed teams and had our sack races. The award for best Skippy went to Nadjuma and Majid both of whom were from year 11. Harmony day was a fun day for all of us, enjoying some different foods, having some fun games and most importantly; appreciating our diversity.