The opening ceremony of state-of-the-art library and preparatory building was held at the Australian International Islamic College (AIIC) on the 10th of March 2016 in the College Multi-Purpose Hall. The guests in attendance for the event included Senator Joanna Lindgren – representing the Commonwealth Government of Australia, Councillor Angela Owen-Taylor, Councillor Milton Dick, Mr. Brett Gillespie – representing the Lord Mayor, Ms. Mariana Lane from the Independent Schools of Queensland (ISQ), Sergeant Jim Bellos – The college liaison officer and Adopt-a- Cop of AIIC, Mr. Rod Morris from Block Grant Authority, AIIC staff, students and parents.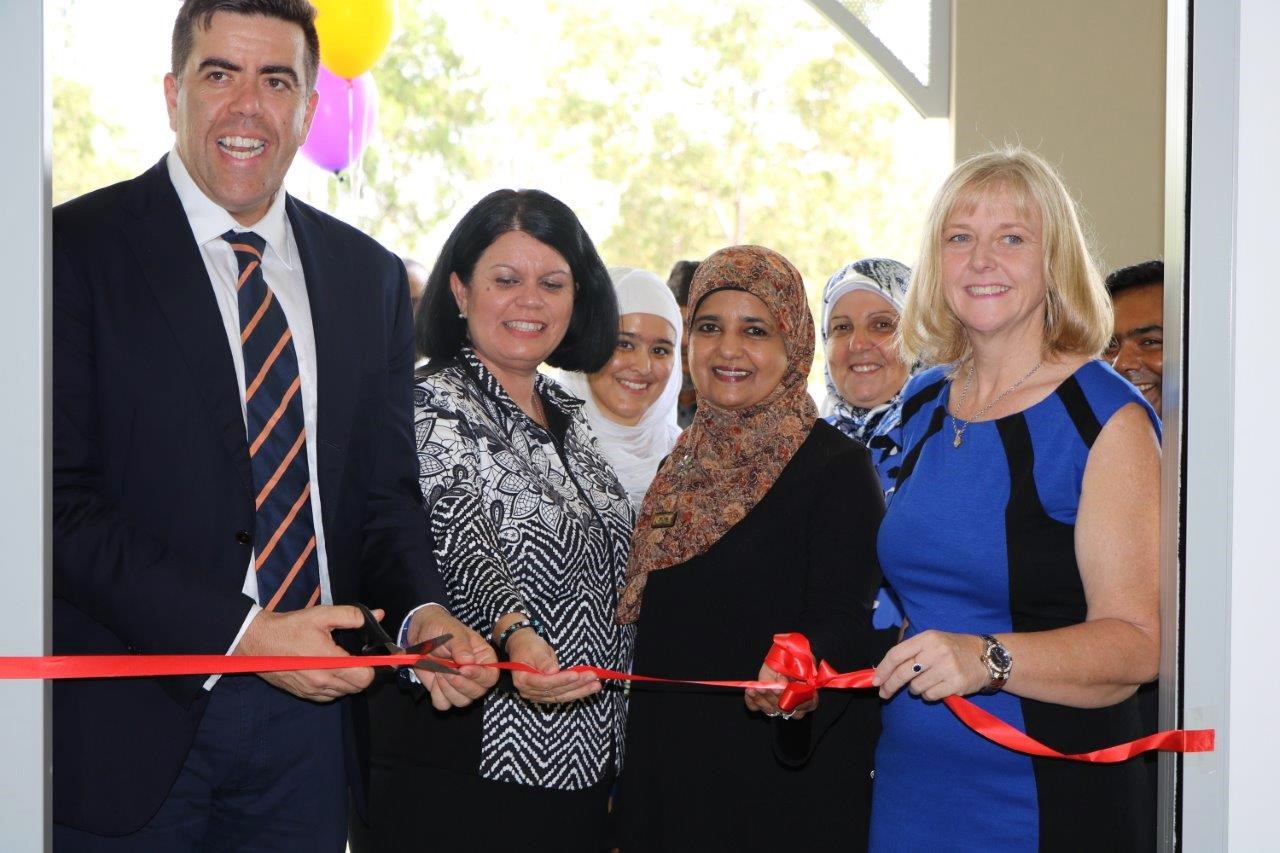 The ceremony started with the recitation of the Quran, followed by the National Anthem by AIIC Nasheed Group. Mrs. Mariam Banwa, the Principal, welcomed the guests and expressed her gratitude to the State and Federal Governments for the generous funding received and thanked the Block Grant Authority for their support and contributions towards this major project. Ms. Marianna Lane, representing the executive director of ISQ, spoke about the close relationship between ISQ and AIIC, and highlighted its growth over the years.
Sergeant Jim Bellos spoke about being an adopted cop and Liaison Officer for AIIC since its inception and how it helped him to be deeply involved with the community. The College Captain, Israa Abdalla, who has been studying at AIIC since her preparatory, explained to the guests how the state-of-the-art facilities like this will contribute and improve students' learning experiences.
In her address, Councillor Angela Owen-Taylor touched on her deep involvement with AIIC and the school community, while Councillor Milton Dick explained how a building can bring together the politicians from different parties and communities from different backgrounds.  Senator Joanna Lindgren spoke on providing better support and funding for education. Mr. Shahid Khan, the Education Advisor of AIIC, delivered the vote of thanks, while Imam Yusuf Thaqafi delivered the concluding dua. The preparatory building was officially opened by Senator Lindgren, while Councillor Milton Dick officially unveiled the library plaque.
The Australian International Islamic College would also like to take this opportunity to extend its gratitude to the community and well-wishers for their ongoing support.