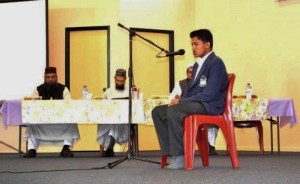 In an effort to encourage our students to recite the Holy Quran, the Australian International Islamic College (Durack Campus) organised its 13th annual Quran Recitation Competition – 2015 at AIIC's multipurpose hall. The competition was held on Tuesday the 28th of April for prep to Yr 6 and on Wednesday the 29th for the high school students. A total of 167 students participated in the competition under the following four categories: Prep- Year 2, Years 3-6, Years 7-9 and Years 10-12. The Quran Competition was a success as the parents and visitors provided positive feedback on the recitation of our students. Parents enjoyed the atmosphere that the Quran competition brought and enjoyed tea and coffee with light refreshments.
The judges of the competition were; Moulana Abdullah Gardee, Moulana Muhammad Aslam and Mufti Naim Ali. The judges were impressed with the participants and their achievements and advised our students about the ways to improve their recitation. They encouraged students to recite the Quran with Tajweed and to recite each letter precisely from its source of origin in order not to change the meaning of the Quran. They also advised students to learn rules that are related to stopping whilst reading the Quran. Students were also encouraged to memorize more from the holy Quran and to practice their memorization regularly.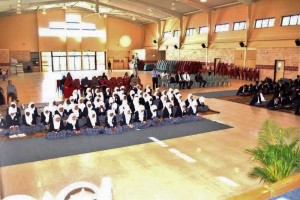 Moulana Gardee told the students that recitation of memorized surahs in your Salah is the best way to avoid forgetting the Quran.  Moulana Aslam encouraged parents to take the responsibility to ensure that their children are improving in their recitation by motivating them. Mufti Naim congratulated parents for sending their children to be educated in the Islamic College and also mentioned the immense reward that Allah has promised us for learning and reciting the holy Quran.
The Australian International Islamic College, would like to thank all the students for participating in this year's Quran competition. We also would like to thank all the teachers, Imams and staff members of the College, for making this year's Quran competition a success.  May Allah accept all of our efforts for his Deen and make us from the people of the Quran in this world and in the hereafter.